by Jonathan Kaufman (Oct 2023)
Perfection is overrated. Enter the world of Scratch Nights.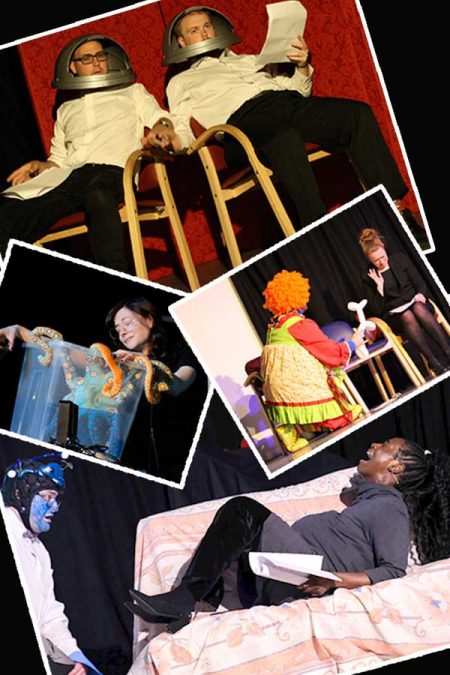 A theatre show is usually a finely-tuned, nuanced and intentional product, where the actors have explored and practised every emotion, every gesture, through weeks of preparation. The sets and the costumes will be expensive and immersive. It's a thing of polished perfection.
And then there are Scratch Nights. The actors have barely rehearsed beyond making sense of the script, and rely heavily on the typed pages they clutch in their hands. The costumes and sets are two bin lids and a plastic Christmas tree at the front of the stage. It's as raw as it can possibly be.
Why would you want to see that?
We have been presenting our own Scratch Nights since 2013, an extension of our scriptwriting classes that started in 2011. These allow us to showcase new writing in a fun, safe, and supportive environment.
Why scriptwriters love Scratch Nights
For beginner writers, sharing your work for the first time can be nerve-shredding, so we take it at a run. We stage several of these 10-minute plays over one evening: script-in-hand, minimal scenery, props and costumes – and usually just two days' rehearsal. Writers get to see their work through the brains of real actors and a real paying audience, and the feedback they receive is invaluable.
Why actors love Scratch Nights
Actors love participating in our scratch nights too, as they never quite know what they'll be asked to do – a variety of characters in a wide variety of short pieces: comic, dramatic, surreal, dark, surprising… It's a stretch for all their parts.
Why audiences love Scratch Nights
The audience love the unfiltered, fresh reactions that the actors still have to the script, before the polish sets hard. And, as one reviewer said it: "If you don't like that play, there will be another along in a few minutes."
At most of our Scratch Nights, audiences can vote for their two favourite plays – with the winning playwright receiving a small prize (usually a bottle of bubbly) and an enormous lift to their confidence. This competitive element gives the night an extra buzz, as the writers bring their friends and family to support, and there's real excitement when we hand out the voting slips.
Audiences have packed out our venues for all our Scratch Nights, which come in three brands:
LOVE BITES
Love Bites – 2013
Love Bites Again – 2018
Love Bites: 3rd Time Lucky – 2020
Love Bytes: Futureshock – 2023
600 SECONDS
(yes, 600 seconds equals 10 minutes running time!)
600 Seconds – 2017
600 Seconds Conflict – 2018
600 Seconds Futureshock – 2022
POSTCARDS
And now the Postcards brand. Our first Postcards in 2019 (those heady, pre-pandemic days!) was commissioned partly by Arts Council funded organisation Pen to Print, based at Barking Library.
We (my playwright sister Lucy and I) asked our writing students to pen short plays inspired by real holiday postcards, based on the front picture and a short quote from the postcard's text. Writers would 'free associate' and create a short playlet featuring a small number of characters in a holiday setting. End results were often somewhat removed from this suggested theme, the associations thoroughly free.
The first Postcards event showed over two nights in 2019 – at Barking Broadway and the Sydenham Centre. Ten plays and their writers competed, with Claire Buckle's play The Turning Tide winning in Barking, Darren Bird's piece Papa clinching the prize in Sydenham. Andrew Platman's play Cycling was runner-up on both evenings!
The next Scratch Night is on Saturday 28 November 2023: Postcards Part 2 – booking now.
The Reviews
Some audience and writer comments about our Scratch Nights over the years:
"We thoroughly enjoyed Spontaneous Productions' 600 Seconds event in July 2017. It was amazing to see such inspiring and original work from new local writers, sticking strictly to the 600 second / 10 minute limit. The writers cleverly crafted very imaginative drama and comedy, which made for a highly entertaining evening. Great fun!" (Ramona Metcalfe, audience comment)
"A very entertaining evening – excellent performances all round and it's wonderful to have such an event on our doorsteps in Sydenham…I also had a piece I'd written performed at Love Bites, and it was a fascinating experience to see it brought to life on the stage." (Rachel Firth, audience comment)
"The acting was great and the constraints placed on the writers in terms of time and lack of props created focus pace and interest. A great evening " (Daniel Harwood, audience comment)
"As a writer I was delighted with the interpretation of my play, and seeing it brought to life on stage in front of an audience was an incredible experience." (Jane Walker, audience comment)
Scriptwriting Courses
If we have ignited your interest in scriptwriting, you can join us:
ScriptHub Beginners – starts after Easter 2024.
ScriptHub Intermediate group – this is for more experienced scriptwriters wanting an informal forum to share work in progress.