Sat 4 March 2023 - Sun 26 March 2023 at The Sydenham Centre Show(s) at 3pm & 4.30pm on Saturdays/Sundays Show lasts approximately 45 minutes, suitable for families with children of all ages.
Tickets: Standard price £10 adults, £5 children / Pay a little less £8 adults, £4 children / Pay a little more £12 adults / £6 children. All under 3s FREE
Spontaneous Productions in association with KIRKDALE BOOKSHOP presented:


About the Show
A Fresh Take on a Classic Tale
Treat your family to an unforgettable musical experience this spring with our ALADDIN indoor theatre show, a brand new twist on the classic Arabian Nights tale. With original songs, video effects, and eye-catching costumes, your children will be transported to a world of magic, mystery, and mayhem.
Update Monday 20 March
Please note that our 3pm shows are selling out very fast, so to avoid disappointment do consider booking for 4.30pm if you are able.

Photos by Mark Drinkwater
A Show for All Ages
Watch as Aladdin, a lazy daydreamer, transforms into a brave hero as he faces the evil magician Abanazar and discovers the power of an ancient lamp. With an abundance of surprises, including a flying carpet and an unforgettable Genie on video, your children will be enchanted by this highly imaginative musical.
Young Aladdin dreams of a life of lazing around, maybe kicking a ball now and again, and one day being rich and marrying a Princess. So when the malicious magician Abanazar promises him a 'get rich quick' scheme, how can he resist? But when he finds himself trapped in a cave with only a dusty lamp for company, what's a poor boy to do?
Your Favourite Actors Return
You won't want to miss the delightful Valentina Pakou as both Aladdin's mother and the Princess, along with Spontaneous regular Paul-D Stephenson as the villainous Abanazar. Jyo Miarkali makes her Spontaneous debut as that lazy scamp Aladdin himself, in this original musical produced by the makers of "Tales of Beatrix Potter," "Rapunzel," and "The Blues Brothers Grimm."
The Best in South London Family Theatre
This is our 23rd family theatre show since we started at Sydenham Centre, and our first of 2023. Our cast members return time and again, and are part of the multicultural Spontaneous family at this South London theatre venue. This time we bring back highly talented dancer and choreographer Valentina Pakou, last seen in our production of Sinbad the Sailor in 2021, and taking on not only two characters here, but the choreography too. Spontaneous favourite Paul-D Stephenson (last seen in Rapunzel, The Gingerbread Man and Sinbad the Sailor) is at his evil best as the malign magician Abanazar.
Making a very special appearance on video (with lots of exciting video special effects) is another Spontaneous regular William Hastings as the Genie. We are very excited to debut our latest Spontaneous actor, Jyo Miarkali.

The Cast
JYO MIARKALI
VALENTINA PAKOU
PAUL-D STEPHENSON
WILLIAM HASTINGS
JYO MIARKALI as Aladdin
VALENTINA PAKOU as Aladdin's Mother / The Princess
PAUL-D STEPHENSON as Abanazar / The Sultan
Plus making a special guest appearance on video – WILLIAM HASTINGS as The Genie
Download a free colouring page of Abanazar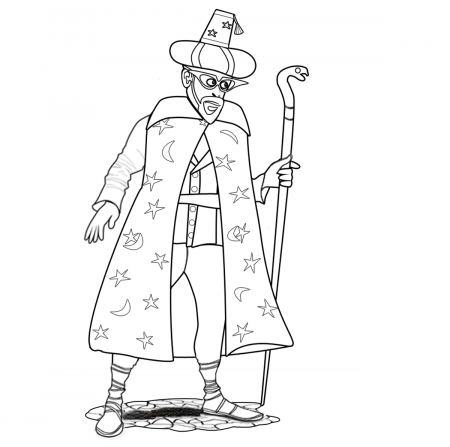 The Credits
The Audience Reviews
What audiences have said about our previous shows:
"We particularly liked your use of video footage and the choreography this time was particularly inventive and exciting!"
"Brilliant fun, great jokes, fantastic acting and singing. Go!"
"Wow, I thought it was awesome…the best of their children's shows to date."
"Congratulations on another great show. So good to be back at the theatre!"
The Sponsors