Sat 26 June 2021 - Sun 11 July 2021 at The Bowling Green, Mayow Park Show(s) at 2pm on Sat & Sun (6 performances only)Show lasts approximately 90 minutes (no interval), suitable for adults and children aged 11+ (Please note this production is not suitable for young children).
Tickets: £15 adults, £10 concessions (inc under 16s, unwaged, over 65s, full-time students)

About the Show
"All animals are equal but some animals are more equal than others"
The second presentation in our spectacular Summer Season of Outdoor Theatre is a new adaptation of George Orwell's masterful satire of totalitarianism, and a highly entertaining original take on this famous book.
First published in 1945, Orwell's stunning allegory of the corruption of the perfect society, tells the story of the animals of Manor Farm. Inspired by visionary pig Old Major, their dream of a new, self-managed system is quickly soured by the innate greed of those who take power – in this case, the pig Napoleon and his sycophantic sidekick Squealer. Only Snowball, the idealistic pig who led the Rebellion, appears to cling to Old Major's dream, but his rivals have other ideas…
Told with the clarity of a fairytale but exploring dark themes and through comic exaggeration, our production is faithful to the original book – with a few twists of course! Expect boldly comic, physical theatre performances, stylised design and imaginative costumes, with stunning original music by Paul Tornbohm and occasional audience participation, this highly entertaining show will take you on a journey into the dark heart of man – and pig!
Please note that due to its themes this production is not suitable for young children. Older children are very welcome, though parental guidance is advised
SPECIAL DISCOUNT FOR SCHOOL PARTIES
Teachers – we are offering a special reduced price for school students, for parties of 10 or more, with staff members going free. Please email jonathan@sptheatre.co.uk for details
Our summer shows are always very popular so we advise early booking to avoid disappointment. Tickets may be purchased in advance online or at Kirkdale Bookshop in person. Any remaining seats will be available on the door from 30 mins before show start time.
You are welcome to bring a chair to sit on, if you prefer, and we can provide one for those who need one, though we will request those sitting on chairs to sit nearer the back, so those sitting on the ground can see clearly.
6 performances only: every weekend at 2pm on Saturday and Sunday
Show dates: Sat 26 June, Sun 27 June, Sat 3 July, Sun 4 July, Sat 10 July, Sun 11 July
The Credits
Adapted & directed by EMMANUEL AKWAFO and JONATHAN KAUFMAN
Associate Producer HJALMAR NORDÉN
Original music PAUL TORNBOHM
Choreography and movement MICHELLE BUCKLEY
Set design LUCY BOND
Costume design JACKIE POULETT
Book Tickets
In person: Kirkdale Bookshop – 272 Kirkdale, Sydenham SE26 4RS
By phone: (Kirkdale Bookshop) 020 8778 4701
Online: booking closes 30 minutes before start time, but tickets may still be available on the door.
More on how to book
The Cast
EVELYN CRAVEN
GEORGIA JACKSON
CHRIS LUCAS
HJALMAR NORDÉN
ANTON RICE
EMMA READE-DAVIES
EVELYN CRAVEN as Napoleon
GEORGIA JACKSON as Clover
CHRIS LUCAS as Boxer
HJALMAR NORDÉN as Benjamin
ANTON RICE as Snowball / Moses
EMMA READE-DAVIES as Old Major / Mollie / Squealer
The Audience Reviews
What audiences said about previous shows:
"Spontaneous Productions is the National Theatre of SE26. Always surprising, always impressive, always entertaining." Matthew Sweet, author and broadcaster")
"Brilliant – heart-rending. What a fabulous production" (Audience comment for Eye of Day: The Mata Hari Story)
"Hugely entertaining" (South London Press, review of The Three Musketeers)
Coming Next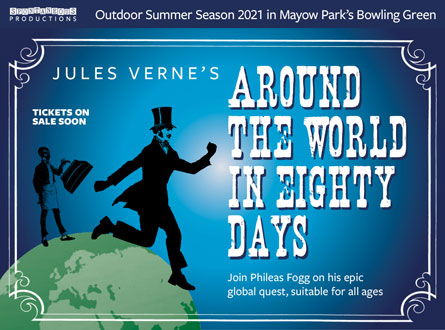 The Sponsors