Sat 24 June 2023 at TNG Youth Centre Show(s) at 6.30pm (5pm cultural activities & food)Show lasts approximately 2 hours, suitable for all aged 7 and over, some scenes may require parental guidance.
Tickets: £7.50 standard price, £10 pay a little more, £5 pay a little less (under 7s FREE)
Spontaneous Productions, in association with Kirkdale Bookshop, presents:


About the Show
An evening of theatre, music, dance and Caribbean food and culture marking the 75th anniversary of the Empire Windrush landing at Tilbury docks.
In June 1948 the Empire Windrush ship brought hundreds of Caribbean people – mostly men, but women also – to England. Invited by the British government, to swell a workforce still feeling the effects of WW2, many found the experience very different from their expectations.
YARD AWAY HOME will tell the story of just a handful of those who made Lewisham their new home, celebrating their voices and exploring this incredible period in history, through theatre, music and dance. Expect a joyful, highly entertaining, and powerfully moving performance marking this special occasion!
Our creative team has been talking to those who came to Lewisham on the Windrush, and their descendants, hearing their first-hand witness accounts and shaping an original show from their research. Grenadian playwright and director Matanah Maya, with spoken word artist and choreographer Olayinka Sobitan Solomon, have crafted a memorable performance, and you are invited to attend on Sat 24 June. Sample cultural activities, a mini exhibition and traditional Caribbean cuisine before the show!
SAFE show at TNG in 2019


Images by Mark Drinkwater
The Credits
Writers Matanah Maya and Olayinka Sobitan Solomon
Director Matanah Maya
Community liaison Jean Beckford
Co-producer Collet Hunter
Costumes and associate producer Jackie Poulett
Choreography by Olayinka Sobitan-Solomon
Producer and project coordinator Jonathan Kaufman
Graphic design Jan Warren
Book Tickets
In person: Kirkdale Bookshop – 272 Kirkdale, Sydenham SE26 4RS
By phone: (Kirkdale Bookshop) 020 8778 4701
Online (scroll down): booking closes 30 minutes before start time, but tickets may still be available on the door.
More on how to book
Please note our scaled ticket pricing enables maximum accessibility to those on a budget, so please pay what you can best afford. The ticket price does not reflect the quality of your seat!

The Cast
MARLON-OLIVER HARRIS
OLAYINKA SOBITAN SOLOMON
VICTORIA WILLIAMS
GREGORY BLAKE
CLAIRE DAVINA JOHNSON
SHAUN SUTAR
COLLET HUNTER
The Audience Reviews
What audiences said about previous productions:
"Spontaneous Productions is the National Theatre of SE26. Always surprising, always impressive, always entertaining.' Matthew Sweet, author and broadcaster
"Hugely entertaining" (South London Press, review of The Three Musketeers)
"I can't recommend going to see this enough, it's a real little gem in a local venue, well worth going to see." (Audience comment about Three Men in a Boat)
"In all honesty I don't expect to walk a mile from my south London home and find a 5-star show in a local park. But a five-star rating means one of the best examples of a show of its type that the reviewer has ever seen – and that's precisely what this is. Complete with sparky plot, imaginative promenade staging, a four-piece live band, gentle inclusion of topical issues and a show case for the skills of five fine, immaculately directed actors, it is an outstanding piece of work." (Susan Elkin, 5 star review of Around the World in 80 Days)
"Wonderfully aimed at the whole family and another great production" (Audience comment about Alice's Adventures in Wonderland)
"One of the best shows about knife crime and gang culture I've ever seen, absolutely amazing" (Audience review of SAFE, co-production by SP & JRHYS)
The Sponsors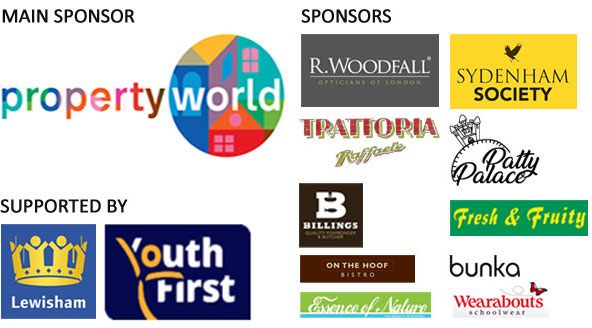 Yard Away Home – Sat 24 June 2023Bookings for Sat 24 June 2023
Online box office for this show is now closed. There may still be tickets available on the door.