Sat 22 June 2019 at The Sydenham Centre Show(s) at 7.30pmShow lasts approximately 2 hours, suitable for over 16s.


SPONTANEOUS PRODUCTIONS in association with PEN TO PRINT and KIRKDALE BOOKSHOP presents: POSTCARDS – 10 entertaining short plays inspired by real holiday postcards

About the Show

Did her father really have a shady past? Why is he so murderous? What exactly had Bob told him to do? These and other cryptic messages are the tantalising inspiration for ten playlets by new writers from north and south of the river. Will their imaginings solve the mysteries?

Vote for your favourite play on the night and help crown one of the writers with 'Best Play'.
The Plays
Baby on Board Leyton and Richard are convinced that their landlady is about to evict them. Was inviting her to a dinner party such a good idea after all?
Bonne Vacances – It's Summer 1962 and Shirl and Fred are minding two suitcases  in a French Riviera hotel. What could possibly go wrong?
Cycling – Two couples, each using very different modes of transport, size each other up across the hard shoulder – who says cycling is better than driving?
Papa – Two Edwardian sisters begin an increasingly fraught correspondence by letter … but what does Papa have to say about this?
Posh – The Italian riviera. An old flame is about to show up at Michael and Louise's wedding anniversary. Sparks are sure to fly!
Postcards From the Island – Henry is in Lanzarote to rediscover his father's love of the island, only to discover the island's devotion to his father…and to him!
Spanish Tummy – Laura and Maurice are on their honeymoon, and Maurice is having the jitters – or is it something more gastric?
The Turning Tide – Stella is trying so hard to give Irene the holiday of a lifetime, with limited results. What's a caring daughter-in-law to do?
We're Stuck in Phoenix – Sandra and Teresa just want a road trip across America, but their Hollywood-obsessed son has other ideas…
One more play to be announced
JOIN THE COMPETITION | Would you like to create a playlet and have the chance to see it performed live? Join one of our Scriptwriting courses and explore your talent! WIN FREE TICKETS | In the meantime, test out your creative muscle on our #CrypticPostcards competition on Twitter and Facebook.
Spontaneous Productions has teamed up with Arts Council England-funded organisation Pen to Print, based at Barking Library, to stage this event. A brilliant opportunity for new writers to see their work performed by professional actors in front of a live audience, this is Spontaneous' 12th scratch night event since 2011.
Producer/co-director Jonathan Kaufman says: "I'm very proud to have given so many emerging playwrights their first chance to see their work performed – writers from both my own and my sister Lucy Kaufman's writing classes will take part in this event, so do come and support them and see the next Harold Pinter or Caryl Churchill's first play on stage!"
7.30pm, Fri 21 June, Barking Broadway Theatre
7.30pm, Sat 22 June, Upstairs at the Sydenham Centre
The Credits
Produced and directed by Jonathan and Lucy Kaufman
Authors:
Jane Walker – Bonnes Vacances | Fran Burke – Postcards from the Island | Sophie Dean – Spanish Tummy | Claire Buckle – The Turning Tide | Andrew Platman – Cycling | Karina Thorne – We're Stuck in Phoenix | Sandra Egbon – Baby on Board | Darren Bird – Papa | Jas Knight – Posh
The Audience Reviews
What audiences have said about previous Spontaneous short play events:
"The acting was great and the constraints placed on the writers in terms of time and lack of props created focus pace and interest. A great evening " (Daniel Harwood, audience comment)
"As a writer I was delighted with the interpretation of my play, and seeing it brought to life on stage in front of an audience was an incredible experience." (Jane Walker, audience comment)
"We thoroughly enjoyed Spontaneous Productions' 600 Seconds event in July 2017. It was amazing to see such inspiring and original work from new local writers, sticking strictly to the 600 second / 10 minute limit. The writers cleverly crafted very imaginative drama and comedy, which made for a highly entertaining evening. Great fun!"
"Great evening with fab acting"
"All very good and the acting and directing was fantastic!!"
The Gallery
Photo credits: Mark Drinkwater
The Cast
Jodyanne Richardson
Hjalmar Nordén
SHIREENAH INGRAM
WILLIAM HASTINGS
Georgina Russell
ALEX HEAD
The Sponsors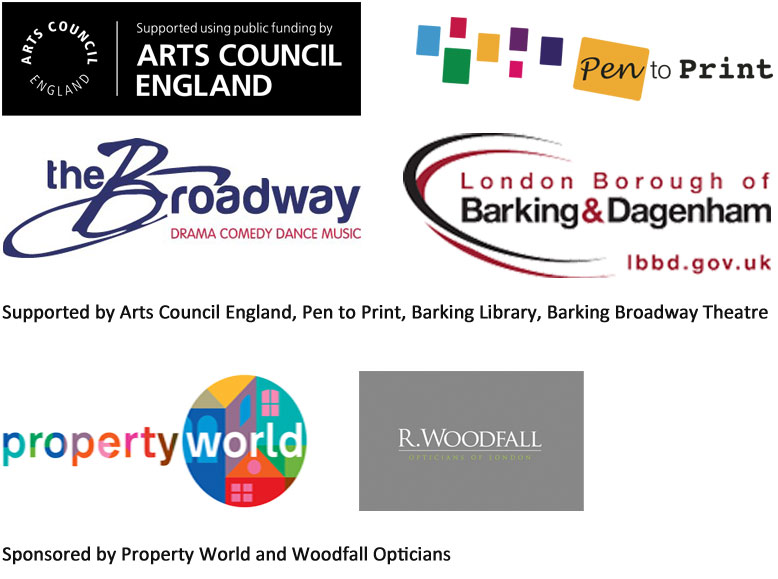 Postcards – June 2019Bookings for Sat 22 June 2019
Online box office for this show is now closed. There may still be tickets available on the door.