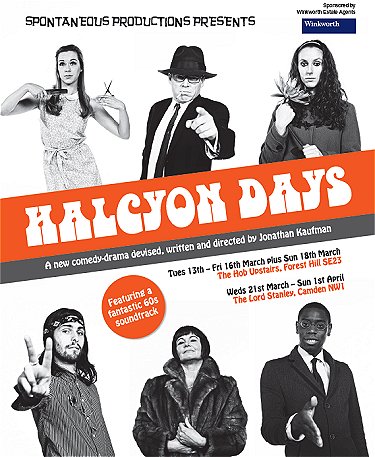 It's 1969 and six diverse characters collide in a comedy-drama that looks behind the myths of the Swinging Sixties unearthing the contradictions of a society caught between optimism and decline.
Nick and Pamela – university students with dreams of changing the world with poetry and folk music
Eddie Nelson – part-time chef and all round dodgy geezer, might he have found love at last with ex-air hostess Gloria?
Trainee hairdresser Patty and Guayanese doctor Marlon – fate can bring together the unlikeliest of couples…
Featuring a fantastic sixties soundtrack, this is Jonathan Kaufman's fourth devised play since 1998. Previous devised work includes Groovy Times (Time Out Critics Choice) and School Ties co-devised with Julian Kaufman (****Three Weeks, Edinburgh Fringe Festival).