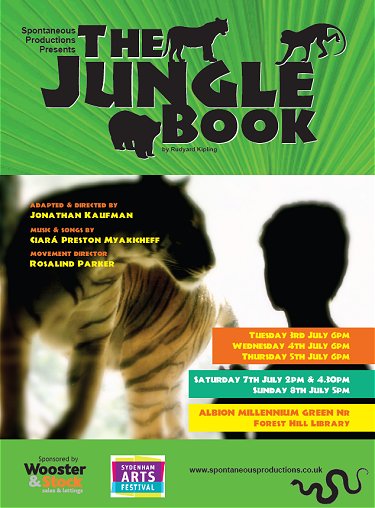 Festival favourite Spontaneous Productions follow-up last year's smash hit Wind in the Willows with this spectacular new adaptation of Rudyard Kipling's classic tale.
India during the Raj: 'man-cub' Mowgli is adopted by the wolf pack and trained in the 'law of the jungle' by Baloo the Bear and Bagheera the Panther. But the man-eating tiger Shere Khan and a troop of jealous monkeys have other ideas…
This is an open-air production, inviting the audience to move to six or more locations on the green, over the show's 1 hour duration. Please avoid bringing pushchairs if possible. Blankets and/or folding chairs welcome.
"This magical show was brilliantly done…and kept the audience, many of whom were very young, entertained and entranced. **** Four stars."
South London Press on The Wind in the Willows