Sat 23 June 2018 at The Sydenham Centre Show(s) at 2pm and 4pmShow lasts approximately 1 hour, suitable for families with children aged 3-10. Tickets: £10 adults, £6 children. Under 3's free but must sit on laps. Parties of 5 children or more, child tickets £5 each.
About The Show
A blue alien puppet and four fabulous storytellers from around the world – what's not to like?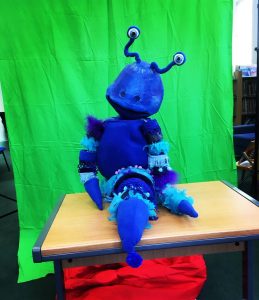 The brand new Spontaneous show for families with children aged 3-10 – features puppet alien Professor Qwertybleep, amazing video effects and four brilliant storytelling performances. More like a theatre show than a conventional storytelling event, expect music, surprises and a whistle-stop tour of the globe as the Professor lands in Australia, India, China and the Caribbean!
Squoink! Join me – Professor Qwertybleep from the Planet Squerdle as I visit your world introducing stories that are exciting, funny, magical and surprising. Help me try to understand why you humans act the way you do – very oddly to an alien like me I can tell you! For example, on my planet we eat SOAP and wash our faces with JELLY – whereas on your planet it's the other way round – how very strange!
Photo credits: Mark Drinkwater
A few of the animations that will thrill your children!
The Cast
Featuring storytellers:
ADRIAN BECKINGHAM 'THE MAN FROM STORY MOUNTAIN' telling the story of The Rainbow Serpent from Australia – aborigines claim this is the oldest story in the world!
MEGHA DHINGRA telling the story of Eklavya the Archer from India – Eklavya's family want her to be a hunter but she wants to be an archer like the great Prince Arjuna!
SUNI LA telling the story of The Stone Monkey from China – when a naughty monkey meets the Lord Buddha you can be sure for a few surprises!
STEPHAN BOYCE telling the story of How Anansi Got His Long Legs from the Caribbean – this classic tale gets a Jamaican twist, as Anansi the lazy spider learns a very hard lesson!
The Credits
Producer and director – Jonathan Kaufman
Additional script – Jonathan Kaufman
Original music – Paul Tornbohm
Professor Qwertybleep puppet designed, made & operated by Alice Sillett of Moon on a Stick Productions
Video – Joe Kaufman of Red Kite Films
The Sponsors

The Audience Reviews
"Another superb show – we thoroughly enjoyed it! Very lucky to have this on our doorstep. Thank you!" (The Little Mermaid
"Wonderful. Inventive. Entertaining." (Goldilocks),
"Excellent script, good audience participation & very funny. Great family entertainment for the weekend" (Jack and the Beanstalk)
This is Spontaneous Productions' fifth theatre show for families since April 2017 and its first storytelling show. Committed to creating original, entertaining and innovative performances for young audiences its previous work has included original musical versions of Jack and the Beanstalk, Goldilocks and the Three Bears and most recently The Little Mermaid. In December it staged a free show, The Snowman and the Christmas Fairy. Plans later in the year include a new version of The Three Little Pigs set in the wild west and during the silent movie era, and a free Christmas show Cinderella.
Date/Time
Sat 23 June 2018
2:00 pm - 5:00 pm 2pm and 4pm
Location
The Sydenham Centre
Bookings for Sat 23 June 2018
Children under 3 go free if they do not occupy a seat (i.e. are held on your lap).To book in person go to Kirkdale Bookshop:
272 Kirkdale, Sydenham SE26 4RS t: 020 8778 4701
Online booking closes 30 minutes before start time, but tickets may still be available on the door.
More on how to book
Box office is not currently open.