Jonathan Kaufman 23 September 2019
So it's official…our Christmas show will be The Snow Queen – a magical retelling of Hans Christian Andersen's classic story of the far north, and inspiration for Disney's Frozen.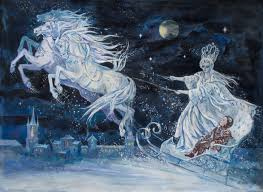 We can't wait to see Lucy Kaufman's original script, which will update the show to present day Scandinavia. And we have some surprising ideas for staging – both at Sydenham Centre and Sydenham Library. I'm particularly excited to stage this show, as it's been in the pipeline for many years. Look out for a teaser in the next two weeks, and confirmation of show dates – likely over two or three Saturdays from 30 Nov to 14 Dec.